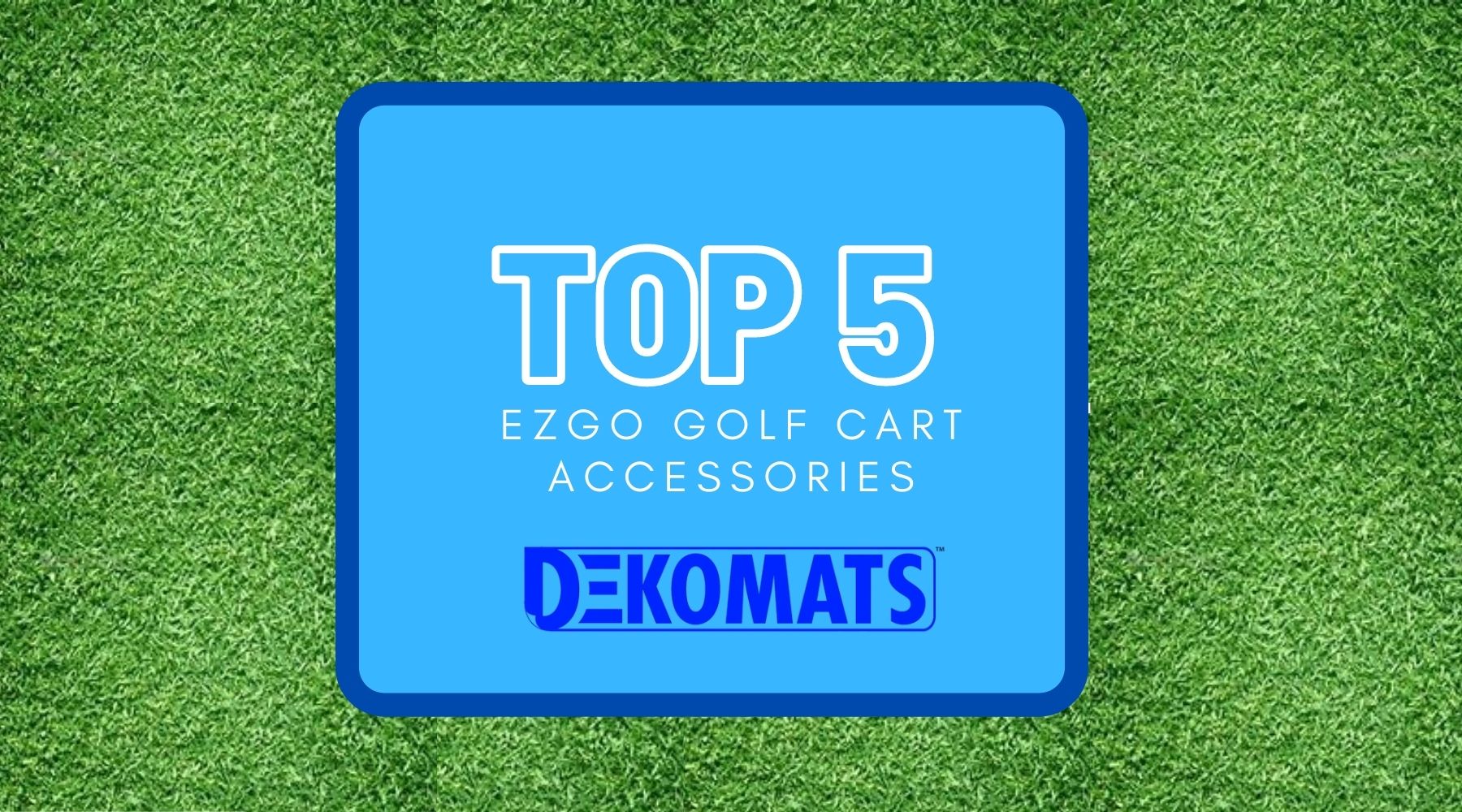 Top Five EZGO Golf Cart Accessories!
Trying to figure out how to customize your golf cart can be difficult. With so many options on the market, how do know what direction to go in? That is why we put together a list of our top five favorite golf cart accessories to get you started! 
1) Custom floor mat
When looking for golf cart accessories there are a few things to take into consideration. First and for most is "bang for buck", you want to make sure you get the largest effect for the least amount of money. Secondly, you are going to look at functionality. Is it functional? Does it serve a purpose? Finally, what you will want to find out is longevity. Will I have it for a long time or is it something I will need to keep replacing. 
With all these questions in mind we have determined that the best golf cart accessories are custom floor mats! For the price of a quality pair of sneakers you can completely change the look of your cart. The options are endless, from crazy colors and designs to custom logos and art. There are virtually no limits with these floor mats. Not only do they look amazing, the floor mats also protect your carts flooring from wear. Rubber mats wear quick and need to be replaced often to maintain a clean look. Dekomats custom floor mats are made right here in the U.S.A. using an extremely durable polyvinyl. These mats are the most eye-catching, functional, and durable mats on the market. This without doubt makes Dekomats custom floor mats the best accessory for your cart build!
Phone number: (941) 928-8827
Address: 1800 University Parkway, Sarasota, FL.
Website: www.Dekomats.com
2) Wheels and Tires
Custom golf cart wheels and tires can be a great purchase for a number of reasons. First, they can enhance the appearance of your golf cart, giving it a more unique and personalized look. Second, they can improve the performance of your golf cart, especially if you frequently use it on rough terrain or hilly courses. Custom wheels and tires can provide better traction and stability, reducing the risk of slipping or sliding on slippery surfaces. Additionally, custom wheels and tires can also improve the ride quality of your golf cart, making it more comfortable and enjoyable to drive. Finally, not only will you have a bigger and better ride, you will also have a bigger and better wallet! Upgrading your wheels and tires with a high quality custom set will ultimately pay for itself as the resale value of your cart will increase tremendously. Our favorite place to shop for the highest quality wheels and tires is none other than MODZ! 
Phone number: (844) 663-9872
Address: 111 County Rd 214 Liberty Hill, TX 78642
Website: www.ridemodz.com
3) Custom Seats
Custom golf cart seats can be a great purchase for a number of reasons. First and foremost, they can greatly improve the overall comfort of your golf cart. Many standard seats can be uncomfortable, especially if you're spending a lot of time driving or riding in your cart. Custom seats can be designed with your specific body shape and size in mind, providing better support and reducing fatigue. Additionally, custom seats can be designed to match the style and aesthetic of your golf cart, allowing you to personalize it to your tastes. This can add an extra level of enjoyment to your time on the golf course or riding around your property. Finally, custom seats can also increase the resale value of your golf cart, making it a smart investment in the long run.
Phone number: (844) 663-9872
Address: 111 County Rd 214 Liberty Hill, TX 78642
Website: www.ridemodz.com
4) Lighting
Custom lighting for golf carts is a great accessory for a variety of reasons. Firstly, it improves the visibility of the cart, making it easier for other golfers and drivers to see it, especially in low-light conditions. Secondly, it adds a stylish touch to the cart, allowing owners to personalize their carts and stand out on and off the course. Additionally, custom lighting can enhance the safety and security of the golf cart, making it less vulnerable to theft or accidents. Overall, custom lighting for golf carts is a useful and attractive accessory that can add value and enjoyment to the riding experience.
Our favorite place to get lighting accessories is Golfcartstuff.com! Here you find a wide variety of lighting equipment. Such as, factory light kit replacements and upgrades, as well as under glow LED lighting strips. When shopping at Golfcartstuff.com you can be rest assured that you are receiving high quality products at a fair price!
Phone number: (574) 333-2494
Address: 2900 Gateway Dr, Elkhart, IN 46514
Website: Golfcartstuff.com
5) Steering Wheels
A custom steering wheel for your golf cart is a great accessory that can enhance both the functionality and appearance of the cart. Firstly, a custom steering wheel can provide a better grip and feel, improving the comfort and control of the driver while driving. Secondly, it can add a touch of personality and uniqueness to the golf cart, allowing owners to express their individuality and style. Additionally, a custom steering wheel can increase the resale value of the golf cart, as it is considered an attractive and desirable upgrade. Overall, a custom steering wheel is a great accessory that can improve the driving experience and add value to the cart.
If we didn't say that the best place to shop for a custom steering wheel is Modz.com then we would be doing you a disservice. Here you can find steering wheels of all shapes and sizes, surely there is one that is just right for you. With a plethora of color options to choose from, matching your custom wheel to your cart will be no issue. Modz.com provides fair prices and an exceptional customer service experience. Go grab your custom steering wheel today!
Phone number: (844) 663-9872
Address: 111 County Rd 214 Liberty Hill, TX 78642
Website: www.ridemodz.com
Summary
In conclusion, modifying your golf cart with quality golf cart accessories will not only make your rides more enjoyable it will also insure that your cart retains a higher resale value. If you are looking to start your customization journey let our team of talents designers help you create an awesome custom floor mat of your own! Click here to get started designing!
What if there was a mat that is far more durable and stylish than any other?



Of course you would make the switch, it's a no brainer! Want to see what we have to offer? Click here to visit our website and take a look for yourself!

For now, lets go over a few key points detailing why you should have a Dekomat in your cart today! 
What makes Dekomats stand apart?
Well, maybe it would be best to show you! Take a look at this side by side comparison. What do you notice? 
You probably noticed that the Dekomat excels over rubber/foam mats in all the traditional functions you would expect from a floor mat. That being said, lets expand on some of these listed bullet points and a few others as well.
Durability: Dekomats are longer lasting and far more resistant against tough debris. Foam mats wear easily and cannot last under use (especially for those who often wear boots or golf cleats). Rubber mats like foam also wear quite quickly. In addition to this they are quick to stain and fade, especially when used often. With Dekomats, wear and tear is basically a thing of the past. 
Fitment:

 

Unlike overlay foam/rubber mats the Dekomat fully replaces the original flooring, this gives the carts a full and complete look. Overlay mats make the cart seem as if it is half finished almost as if there was a lack of effort in the final product. This is not the desired effect on your cart that you have invested so much time in. 
Design/Customization: When it comes to design options and customization The Dekomat outshines all others without breaking a sweat. While foam/rubber mats have extremely limited options, the Dekomat can provide unlimited design opportunities. Not only are there over 100+ designs to choose from, the Dekomat is 100% customizable! 
Overall Appearance: 

 

 

Foam and rubber mats are made of cheap material from overseas, this in turn makes your cart seem cheap. Our mats cover your flooring from top to bottom with Industrial grade polyvinyl, displaying any design of your choosing. This gives your cart a desirable high end and premium appearance that you cannot get from foam/rubber mats.
Not to mention that we offer our awesome mats for all of these brands listed below, and MORE! Plus, if you do not see the brand you need, no worries! Click here and we will get that resolved for you! 
At this point, we all understand that if you are going to get a mat for your cart Dekomats is certainly the way to go. So whats next? Time to give you all a SPECIAL OFFER! Below, is your exclusive offer only available from our blog!
AT CHECKOUT USE CODE: 10OFF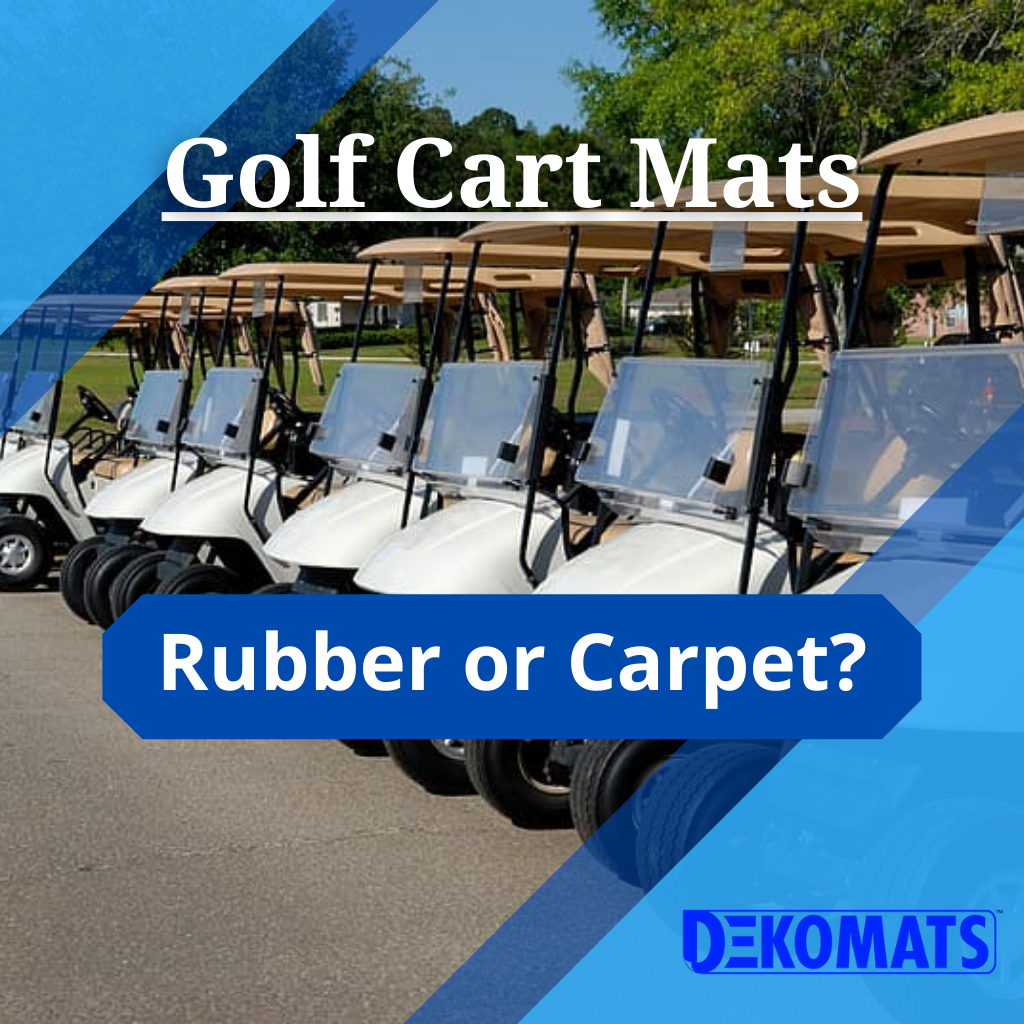 Golf Cart Floor Mats, Carpet or Rubber?
Why install either? Replacing or protecting the original flooring in your golf cart is inevitable, the test of time will always have the upper hand on O.E.M. parts, but flooring in particular is v...
Read more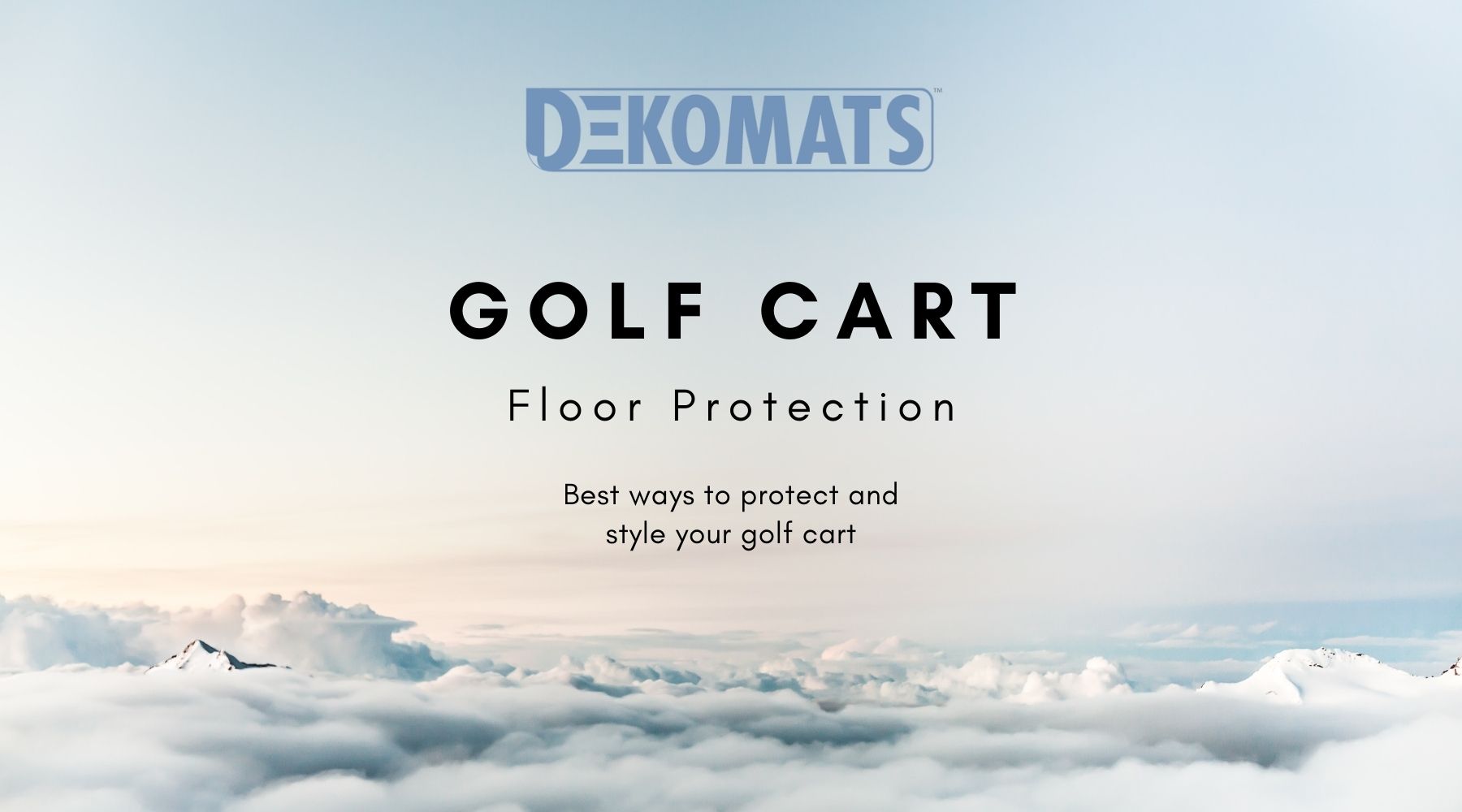 Finding a solution.  Traditional floor mats offer little to no customization and lack luster protection. The Dekomat is a here to revolutionize the floor mat industry with virtually unlimited ...
Read more