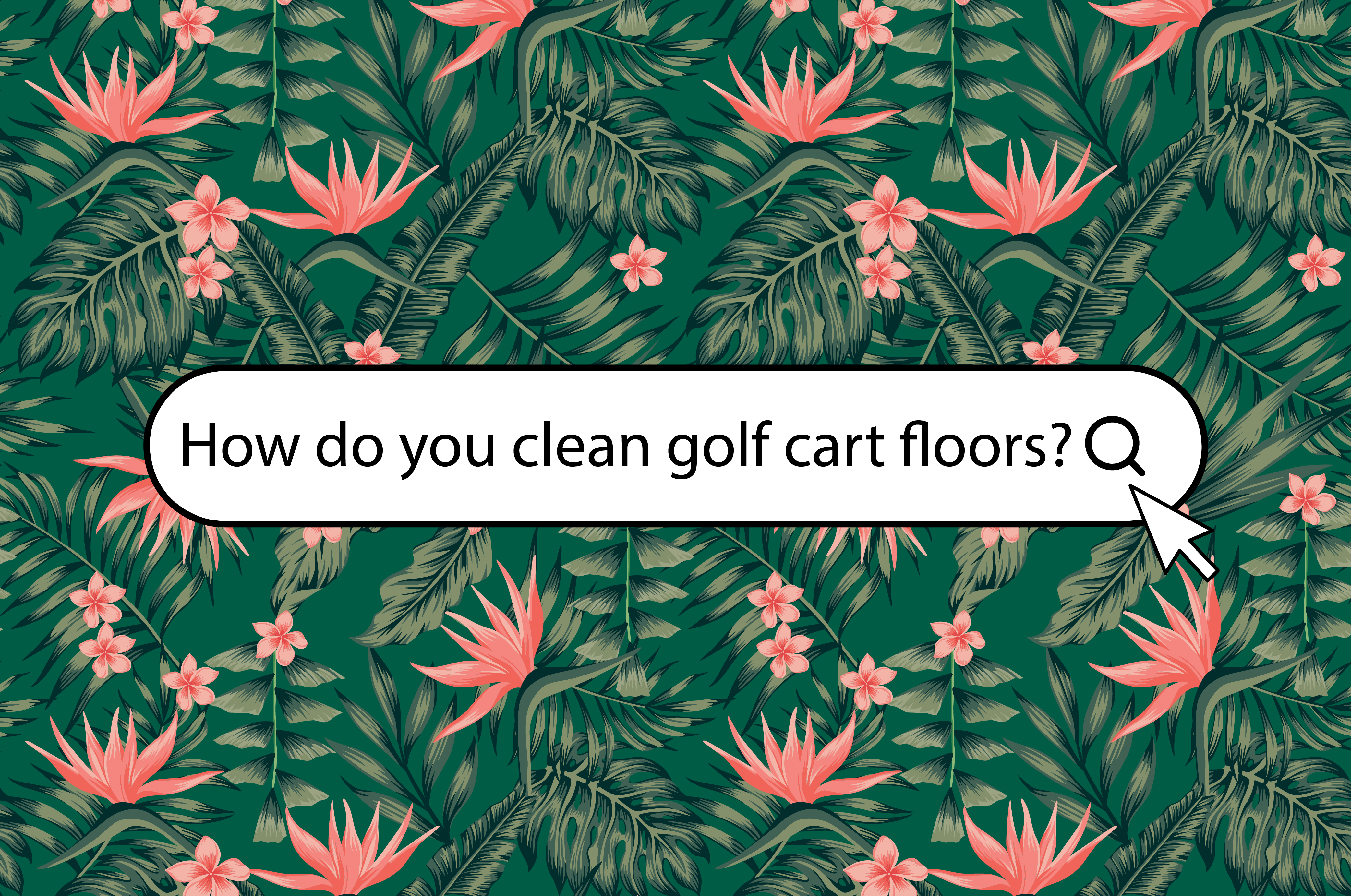 How do you clean golf cart floors?
Keeping your golf cart clean is not only important for its appearance, but also for its longevity and performance. One area that often gets overlooked when it comes to cleaning a golf cart is the floor. However, the floor of your golf cart can accumulate dirt, debris, and stains over time, which can be unsightly and potentially damaging to the flooring material. To make your golf cart floor cleaning routine a breeze, investing in a floor mat is the best option.
First, it's important to thoroughly sweep or vacuum the floor of your golf cart to remove loose dirt and debris. Use a soft bristle brush or a vacuum with attachments to get into corners and tight spaces. Next, use a mild detergent mixed with water to clean the floor. Avoid using harsh chemicals or abrasive cleaners that can damage the flooring material. Gently scrub the floor with a soft brush or cloth, paying extra attention to any stains or spills. Rinse the floor thoroughly with clean water and use a towel or cloth to dry it completely.
Now, let's talk about why having a floor mat is the best option for ease of cleaning. A floor mat acts as a protective barrier between the floor of your golf cart and dirt, debris, spills, and stains. It helps prevent these from directly contacting the floor, making it much easier to clean. Simply brush or sweep the floor mat to get rid of the dirt and debris, wipe it down with a cloth or hose it off to remove any stubborn substances. A floor mat is also easy to install, saving you the time and effort of deep cleaning the entire floor of your golf cart.
In addition to ease of cleaning, a floor mat also helps to preserve the original flooring material of your golf cart. Golf carts often have carpet, metal, or rubber flooring, which can wear down over time due to constant use and exposure to dirt and debris. A floor mat acts as a protective layer, preventing direct contact between the flooring and potential sources of damage. This can extend the lifespan of your golf cart's floor and help maintain its value.
In conclusion, cleaning the floor of your golf cart is essential for maintaining its appearance and performance. Investing in a floor mat is the best option for ease of cleaning, as it acts as a protective barrier against dirt, debris, spills, and stains. A floor mat is easy to clean and installment typically takes only a few minutes. A small price to pay for preserving the original flooring material of your golf cart and extending its lifespan. So, make sure to include a high-quality floor mat in your golf cart cleaning routine for a cleaner, well-maintained, and long-lasting ride on the golf course. Click here to browse high quality floor mats!
What if there was a mat that is far more durable and stylish than any other?



Of course you would make the switch, it's a no brainer! Want to see what we have to offer? Click here to visit our website and take a look for yourself!

For now, lets go over a few key points detailing why you should have a Dekomat in your cart today! 
What makes Dekomats stand apart?
Well, maybe it would be best to show you! Take a look at this side by side comparison. What do you notice? 
You probably noticed that the Dekomat excels over rubber/foam mats in all the traditional functions you would expect from a floor mat. That being said, lets expand on some of these listed bullet points and a few others as well.
Durability: Dekomats are longer lasting and far more resistant against tough debris. Foam mats wear easily and cannot last under use (especially for those who often wear boots or golf cleats). Rubber mats like foam also wear quite quickly. In addition to this they are quick to stain and fade, especially when used often. With Dekomats, wear and tear is basically a thing of the past. 
Fitment:

 

Unlike overlay foam/rubber mats the Dekomat fully replaces the original flooring, this gives the carts a full and complete look. Overlay mats make the cart seem as if it is half finished almost as if there was a lack of effort in the final product. This is not the desired effect on your cart that you have invested so much time in. 
Design/Customization: When it comes to design options and customization The Dekomat outshines all others without breaking a sweat. While foam/rubber mats have extremely limited options, the Dekomat can provide unlimited design opportunities. Not only are there over 100+ designs to choose from, the Dekomat is 100% customizable! 
Overall Appearance: 

 

 

Foam and rubber mats are made of cheap material from overseas, this in turn makes your cart seem cheap. Our mats cover your flooring from top to bottom with Industrial grade polyvinyl, displaying any design of your choosing. This gives your cart a desirable high end and premium appearance that you cannot get from foam/rubber mats.
Not to mention that we offer our awesome mats for all of these brands listed below, and MORE! Plus, if you do not see the brand you need, no worries! Click here and we will get that resolved for you! 
At this point, we all understand that if you are going to get a mat for your cart Dekomats is certainly the way to go. So whats next? Time to give you all a SPECIAL OFFER! Below, is your exclusive offer only available from our blog!
AT CHECKOUT USE CODE: 10OFF


What should I put on my golf cart?
Introduction Trying to figure out how to customize your golf cart can be difficult. With so many options on the market, how do know what direction to go in? That is why we put together a list of...
Read more